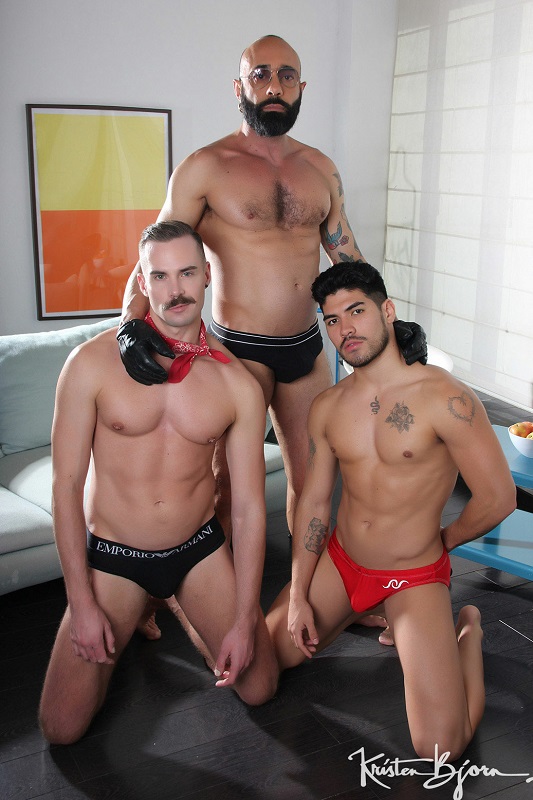 Gianni Maggio loves to be in control and today he is cruising the streets looking for a couple of hot men to fulfill his desires and lucks upon Gus Torres and Adam Tyrant. It is made clear to Adam and Gus that Gianni will command their performances. Returning to Gianniís flat, he quickly strips down and begins stroking his monster cock as the show begins. Gianni gestures for Adam to suck on Gusí growing cock. Gus watches Gianni stroking his massive cock as Adam works his hot mouth up and down his cock shaft, sucking it to life and full of pleasure. Gianni calls for a change and Gus begins deep throating Adamís throbbing cock. Gianni is enjoying the show, but he has demands for more and instructs the guys to move into a 69 ass eating position. Adamís wet tongue delves deep inside of Gusí smooth, pink hole causing Gusí eyes to roll to the back of his head with elation. Riding that high, Gus laps, licks, and eats Adamís hot pink hole. Receiving another command, Gianni instructs that the fucking begin. Adam spreads Gusí incredible ass open and shoves his hot, smooth cock deep inside of him. While stroking his gigantic cock, Gianni signals for a flip and Gus shoves his strong cock deep inside of Adamís smooth ass. Adam loves the way Gus fluidly gyrates his hips and fills his ass with that incredible cock. Now that the guys have opened each other up, Gianni moves in and takes full command of the situation. Gus and Adam are lined up with their magnificent asses up and ready for fucking. Gianni shoves his substantial cock deep inside of Adam, giving his ass a deep fuck before moving over to Gusí hungry hole. Gianni moves back and forth from one hot ass to the other. With Adam on all 4ís, Gus takes the position above him while Gianni is fucking Adamís ass. Gianni moves to the upper-level ass and begins fucking Gus. Gianniís monster cock keeps moving from one ass to the other, filling both asses with huge amounts of pleasure. Another flip and this time Adam lowers his hungry hole onto Gianniís granite cock. While Adam is gyrating his ass up and down on Gianni, Gus is busy sucking on his pulsating cock. Pleasure is coming from every direction for this trio. Another flip and now Gus is squatting his ass onto Gianniís popular cock. Adam is right there to pull Gianniís cock out and sucking on it before shoving it back into Gusí ass. One last command finds Gus and Adam on their knees in front of Gianni and his hefty cock. The guys finally get their opportunity to suck on the generous cock that has been bring them such pleasure. This tag team cock sucking has brought Gianni to an explosive end as he feeds both Gus and Adam his hot load of cum. Adam and Gus then share their loads with each other as they shoot their cum into each otherís hungry mouths.
Cast:
gus torres
adam tyrant
gianni maggio
&nbsp
more KRISTEN BJORN updates
&nbsp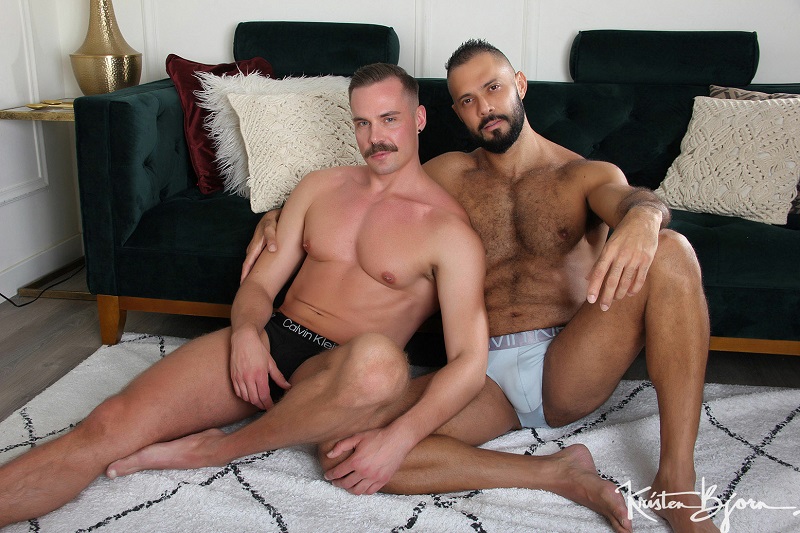 Adam Tyrant is a horny fucker, walking into the room, stripping down to his underwear in preparation for his induction into the Kristen Bjorn Society of Select Men by the very sexy Jacob Lord. Apparently, Adam loves showing off his various piercings along with that sexy stache of his. Jacob enters the room looking as enticing as every with his hairy, muscular toro teasing us of the pleasures to come. Lustful kissing starts off this meeting along with exploring hands. Adam reaches out and finds Jacobís mushrooming bulge. After relieving themselves of the confines of their underwear, Jacob leans in and consumes the entirety of Adamís rock-hard cock, sucking it to his full ball sac, revealing another of Adamís piercings, this time it is his smooth, sexy taint. Adam is eager to get his lips wrapped around Jacobís marvelous cock and quickly elicits encouraging demands from Jacob to service his throbbing cock. Adam repositions himself so that his ass is hovering just above Jacobís hungry tongue. Jacob wastes no time and begins fucking Adamís smooth hole with his hot tongue. Adamís pleasure level is rising quickly, thanks to the amazing talents of Jacobís magical tongue. Jacob bends Adam over and rams his cock balls deep inside of that hot, smooth hole. Adam proves he is very skillful with big cocks fucking his ass and is hungry for more. Adam is enthralled with Jacobís cock in his ass that he demands that he ďfuck meĒ over and over again and Jacob answers his demands with a harder and deeper ass fucking. Time to change things up and this time Adam squats his wet ass down onto Jacobís thunderous cock. Adam drives down the entire length of Jacobís cock shaft and immediately begins riding that cock deep and hard. Jacob takes over and thrusts his granite cock as deep as possible, much to Adamís delight. The guys go back and forth with who is doing the fucking until they swap up for another position. Adam lies down with one leg in the air and Jacobís cock coming in for a penetrating fuck that will take both men over the edge and into bliss. With Adamís ass being so accommodating, Jacob fucks him with full on passion and pleasure. Adamís ass has milked Jacob to the edge and beyond as Jacob showers his thick load of cum all over Adamís steel rod. Grabbing hold of his cock, Adam uses Jacobís cum as his lubricant and strokes his cock as Jacob finger fucks him to an explosive orgasm that shoots all over his smooth abs.
Cast: adam tyrant
jacob lord
&nbsp
more KRISTEN BJORN updates
&nbsp