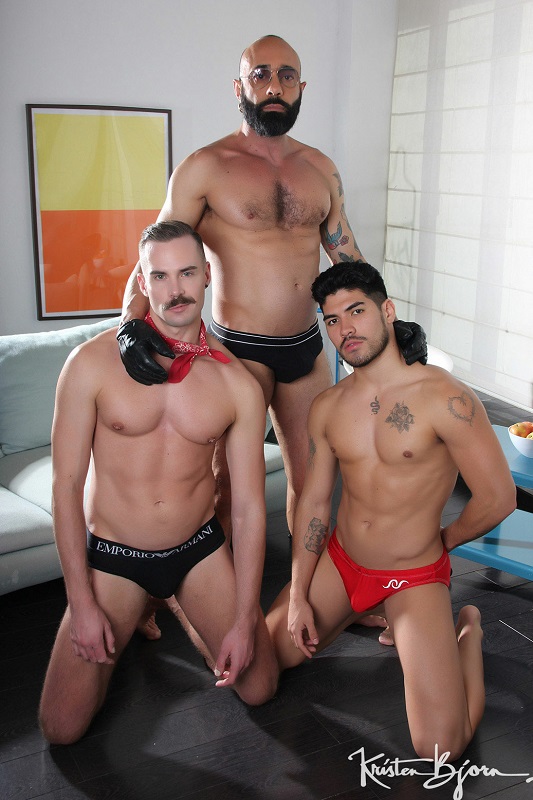 Gianni Maggio loves to be in control and today he is cruising the streets looking for a couple of hot men to fulfill his desires and lucks upon Gus Torres and Adam Tyrant. It is made clear to Adam and Gus that Gianni will command their performances. Returning to Gianniís flat, he quickly strips down and begins stroking his monster cock as the show begins. Gianni gestures for Adam to suck on Gusí growing cock. Gus watches Gianni stroking his massive cock as Adam works his hot mouth up and down his cock shaft, sucking it to life and full of pleasure. Gianni calls for a change and Gus begins deep throating Adamís throbbing cock. Gianni is enjoying the show, but he has demands for more and instructs the guys to move into a 69 ass eating position. Adamís wet tongue delves deep inside of Gusí smooth, pink hole causing Gusí eyes to roll to the back of his head with elation. Riding that high, Gus laps, licks, and eats Adamís hot pink hole. Receiving another command, Gianni instructs that the fucking begin. Adam spreads Gusí incredible ass open and shoves his hot, smooth cock deep inside of him. While stroking his gigantic cock, Gianni signals for a flip and Gus shoves his strong cock deep inside of Adamís smooth ass. Adam loves the way Gus fluidly gyrates his hips and fills his ass with that incredible cock. Now that the guys have opened each other up, Gianni moves in and takes full command of the situation. Gus and Adam are lined up with their magnificent asses up and ready for fucking. Gianni shoves his substantial cock deep inside of Adam, giving his ass a deep fuck before moving over to Gusí hungry hole. Gianni moves back and forth from one hot ass to the other. With Adam on all 4ís, Gus takes the position above him while Gianni is fucking Adamís ass. Gianni moves to the upper-level ass and begins fucking Gus. Gianniís monster cock keeps moving from one ass to the other, filling both asses with huge amounts of pleasure. Another flip and this time Adam lowers his hungry hole onto Gianniís granite cock. While Adam is gyrating his ass up and down on Gianni, Gus is busy sucking on his pulsating cock. Pleasure is coming from every direction for this trio. Another flip and now Gus is squatting his ass onto Gianniís popular cock. Adam is right there to pull Gianniís cock out and sucking on it before shoving it back into Gusí ass. One last command finds Gus and Adam on their knees in front of Gianni and his hefty cock. The guys finally get their opportunity to suck on the generous cock that has been bring them such pleasure. This tag team cock sucking has brought Gianni to an explosive end as he feeds both Gus and Adam his hot load of cum. Adam and Gus then share their loads with each other as they shoot their cum into each otherís hungry mouths.
Cast: gus torres
adam tyrant
gianni maggio
&nbsp
more KRISTEN BJORN updates
&nbsp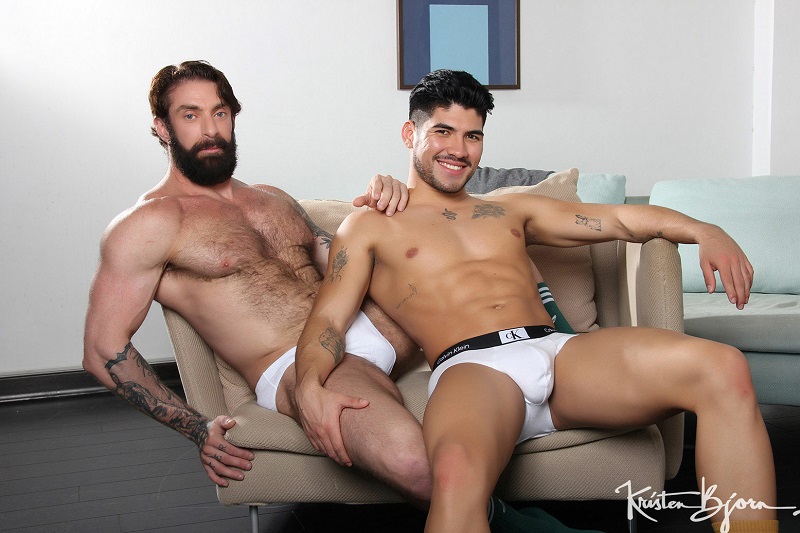 Gus Torres steps onto the set and seduces us as he strips off his shirt and begins a provocative dance that pulls into his trance, what will Scott Carter do as he inducts Gus into the Kristen Bjorn Society of Select Men. Scott enters the room, already stripped down and takes command of the situation and of Gus. Scott lures Gus in with his sensual kisses then leads his hand down his furry torso until his hand lands on Scottís throbbing cock. Stripping Gus of his Calvinís, Scott bends him over and spreads his magnificently muscular ass, exposing the perfect, smooth, pink hole. Drool is flowing from Scottís mouth as he leans in and captures his first taste of Gusí perfect ass. Gusí eyes roll back into his head as he feels Scottís strong tongue penetrate his youthful ass. As Scott overwhelms Gus with his expert ass eating skills, Gus spreads his legs open for Scott to have better access and Scott responds with a deeper more profound tongue fucking. Scott flips around and slams his raw cock deep inside of Gusí hungry ass. Gus moans out in a mixture of pleasure/pain and quickly adjusts to the pleasure that is filling his ass. Scottís hairy balls are rubbing against Gusí smooth thighs and with each thrust both menís pleasure levels are skyrocketing. Shifting positions, Scott takes Gusís granite cock into his mouth and begins servicing his cock with his deep throat cock sucking expertise. Scott buries Gusí cock deep into his mouth and throat, leaving only those smooth, heavy balls exposed. Looking down, Scott is enthralled when Gus takes over and he looks down to see that exquisite face that is devouring his cock. Gus is hungry and so is his ass and makes the opportunity to squat his hungry hole onto Scottís rock-hard cock. Starting out gently, Gus rides his ass up and down Scottís amazing cock shaft, building to a more powerful fucking. Gyrating up and down Scottís cock, Gus fucks in unison with Scott then Scott takes over and power fucks his hot ass. Another flip and this time Gus is on his back and Scott is coming in from on top. The view in this position is both mesmerizing and intoxicating as Scottís cock is in full view as it rides Gusí perfect ass deeper and deeper. Gusí perfect ass has captivated Scott and draws him in and takes him to the point of no return. Scott explodes his thick load of cum all over Gusí taint before scooping up his load and shoving cock and cum inside of Gusí ass. Scott fingers Gusí ass until he shoots his equally heavy load of cum. The expert has brought his disciple to a new level of awareness. Who is next to fuck with Gus?
Cast: gus torres
scott carter
&nbsp
more KRISTEN BJORN updates
&nbsp