The Boss' Right Hand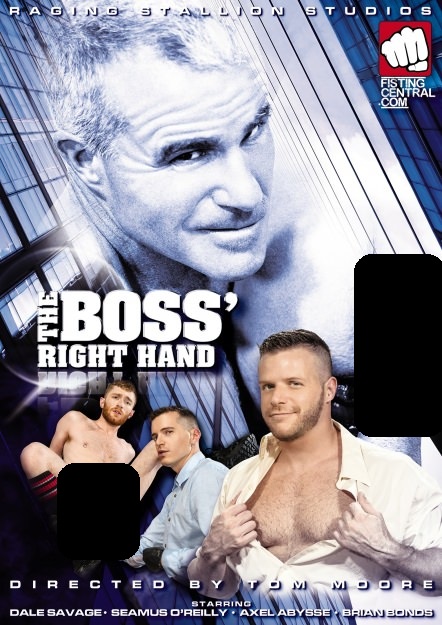 Every boss needs a right hand man and every hungry hole in this office is vying for that job. To get the position, you might need to take 'The Boss' Right Hand', straight up your ass. At the end of this office day, there won't be a single hole untouched or unbusted. Dale Savage finds his employee, Brian Bonds, slacking on the job. To teach Brian a lesson, Dale dives wrist deep into Brian's hairy ass and pounds him with his fist until Brian blasts a load on the break room table. When Brian takes too long to clean up from his session with his boss, Dale demands to get his own backend fisted. Brian alternates fists in and out of Dale's stretched hole until Dale blasts a giant load. Seamus O'Reilly and Axel Abysse take a break from working in the office when Seamus bends over to take Axel's fist up his ass. Axel fist punches Seamus' hole relentlessly until Seamus' rosebud blooms and his dick bursts with an explosion of cum. The guys hear the boss coming and run to the break room where Axel wants his turn taking Seamus' fists up his ass. By the time Seamus is done, Axel's sloppy hole is blown out and busted, but that doesn't stop Axel from milking his thick, pierced cock and squirting a load all over. The next time you find yourself compromised in the office, all you have to do is bend over and become 'The Boss' Right Hand'.
SCENE 1
SCENE 2
Fisting Theater
Welcome to the 'Fisting Theater'! Where hungry asses go to get wrecked on stage, and horny guys pay to watch, and join the show. If a hole ain't wrecked, it wont be too long until it is in this theater. Teddy Bryce is auditioning eager new holes for his 'Fisting Theater' when Noah Scott shows up to show off his holes capabilities. When he can't fist himself, janitor Alex Killian hops on stage to lend him a hefty fist. Teddy hops in on the action and soon has both of his fists, wrist deep inside each of the hungry studs. When the audition is over, Teddy sends Noah off while Alex sticks around to work with Teddy one-on-one. Teddy hops on and rides Alex's fist until he blasts a load in the janitor's face. Luka Sage is new in town from Iowa when he arrives to audition as a performer at the popular 'Fisting Theater'. Brian Bonds helps him out by shoving his closed fist hand up into Luka's asshole and punching his hole until Luka blasts a thick load of cum all over himself. Brian wants to see Luka's skills as a fisting top and bends over to see if Luka has what it takes to gape his backend. Luka gets his wrist deep into Brian's hole and doesn't stop until he fists the cum out of the gaping stud. Will it be enough to get the job? Axel Abysse arrives for his gig at the theater and is greeted by the owner and biggest fan, Teddy Bryce. Teddy greedily wants Axel's fist up his ass before the general public gets to see him on stage. Axel doesn't disappoint and pile drives the tatted stud with his fist until Teddy creams in his own mouth. After getting his hole stretched to the limit, Teddy takes Axel to the empty theater to try him out. Axel offers up his ass and pushes out his rosebud as Teddy wrecks his hole with a constant and steady double fist punch that leaves Axel covered in jizz. Cum join the destruction of holes as assholes get wrecked and stretched to the limit by the horny fists at the 'Fisting Theater'.
SCENE 1
SCENE 2
SCENE 3
SCENE 4
SCENE 5
World Series of Fisting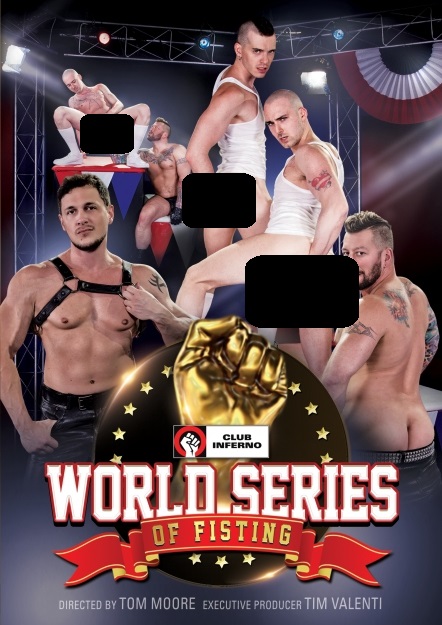 Welcome to the 'World Series of Fisting', where gaping holes, deep fist penetration, and raging rosebuds rule the day. The competition is stiff and the contestants hail from around the world to show off for the judges just how deep they can take a fist. On the night before the competition, Hugh Hunter shows his star athlete the fisting arena. Sam Syron wants one final training session and after Hugh plunges his thick cock into Sam's ass, he finishes him off with a wrist deep fist up his gaping hole. After Hugh blasts a load all over Sam, they both agree that Sam needs one more round before the big day. Sam once again bends over and lets the coach shove his hand up his ass. Sam's rosebud is at full capacity when he slams his own fist inside himself and shoots a geyser of sperm all over his own milky white body. Joey D has been coaching Axel Abysse and Colin Bryant to compete in the World Series. The night before the competition, Joey gets some appreciation from his guys for all the hard work he's been putting in with some hardcore cock and ball worship. After getting throbbing hard, Joey fucks each of the guys before fisting them at the same time. After all of that, Joey still isn't convinced his men are ready so calls for a second last minute training session. He goes forearm deep into Colin and the gives Axel's protruded asshole a double-fisted stretching before he calls it a night and lets the guys drain their balls. When the big day arrives, Axel and Sam go head to head in direct competition. With the categories of best self fister, best rosebud, deepest penetration, best punch fistee, and widest gaping hole, these guys have their work cut out for them. The competition is close and a bonus round is needed to see who can best take a foot up their ass. Sam and Axel bend over and hop on Hugh and Joey's feet to ride them all the way to the championship. Who will come out on top and who will go home empty fisted?
SCENE 1
SCENE 2
SCENE 3