The Pledge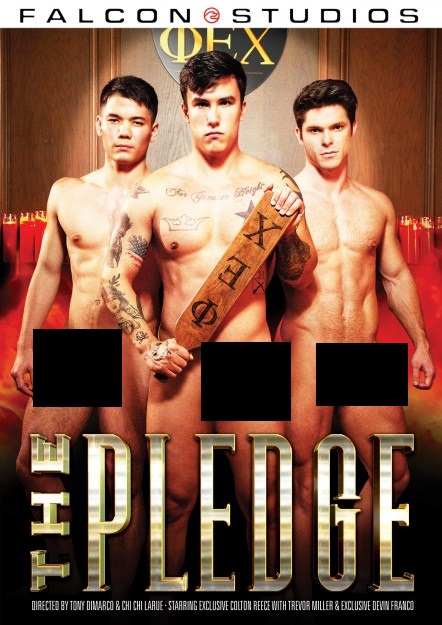 In the tradition of the iconic 'Pledge Master' franchise, which includes 'The Pledge Masters', 'New Pledgemaster' and 'Pledgemaster -- The Hazing'; Falcon Studios invites you to experience 'The Pledge'!The college freshmen in 'The Pledge' are willing to do anything to get a coveted spot in the hottest fraternity on campus. Their quest for validation and acceptance from their potential frat brothers becomes a lusty tale of intrigue, desire and deception that always leads to steamy bareback encounters. Join award-winning co-directors Chi Chi LaRue and Tony Dimarco as they deliver a blockbuster collegiate adventure featuring nine horny frat studs looking for all the raw college dick and ass they can grab. Brandon Wilde sits for his pledge interview with Trevor Miller and Tyson Rush. To prove that he has what it takes to join the brotherhood, Brandon bends over to let Tyson and Trevor tag team him bareback until both his mouth and ass are filled with their cum. Nic Sahara wants Zak Bishop to sponsor his pledge to the fraternity. Zak sees an opportunity and gets Nic out of his jeans. After sucking the college freshman's big uncut dick, Zak bends over to take every bare inch Nic can give him. Will a load in Zak's ass be enough for Nic to get his pledge? Steven Lee and Tristan Hunter get invited to visit the fraternity. When they arrive, Trevor Miller teaches them all about what being a frat brother means. The duo does everything Trevor commands including sucking cock and fucking raw as Trevor looks on with his dick in his hand. Will the show of loyalty and bonding gain them enough favor to get 'The Pledge'? Colton Reece blindfolds Devin Franco to drive him to an undisclosed location. Once there, Colton fucks the sight-deprived stud aggressively, stretching his hole to the limits until Devin is drenched with cum. It's a sudden turn of events at the final hazing ceremony when Devin Franco takes charge to put Trevor Miller in a submissive position at the fraternity initiation orgy. Blowjobs break out around the room and soon Colton Reece, Nic Sahara, Zak Bishop, and Brandon Wilde are all lined up to plug both of Trevor's holes for his betrayals. After all five hunks in the room have a go at Trevor's ass, they each blast their loads and cover the disgraced brother with jizz. Will Trevor be allowed to stay in the fraternity? Go balls deep in brotherhood with 'The Pledge' and see if you have what it takes to swear a lifetime of secrecy to the fraternity!
SCENE 1
SCENE 2
SCENE 3
SCENE 4
SCENE 5
Curious Neighbor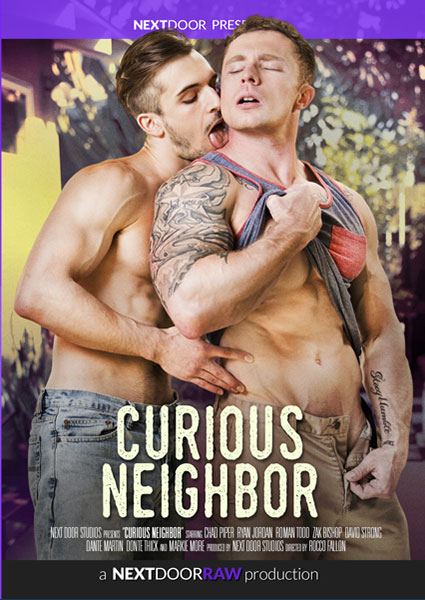 When Ryan finds Chad Piper naked and standing in his closet, he has no idea how to react. He tries to explain that he just likes to watch, but Ryan wags his dick and tells him to get a much closer look before taking it in his mouth. Roman Todd has a curious feeling about his new neighbor, Zak Bishop. When they start to kiss, Zak doesn't look convinced, so Roman kisses his way down Zak's body and begins to suck him. He can admit that Roman is a lot more than curious. Walking through the parking lot, Dante Martin approaches a car with a guy jerking off inside. He panics and runs off to his apartment. When David Strong knocks on his door to apologize and explain, Dante invites him inside to continue the fun. Markie More and Donte Thick are both amped and ready for this stripped down romp of a scene. Both guys like it raw, rough and nasty, so when they get together, it's a perfect pairing of unfiltered hot & dirty sex.
SCENE 1
SCENE 2
SCENE 3
SCENE 4
M4M Anonymous 2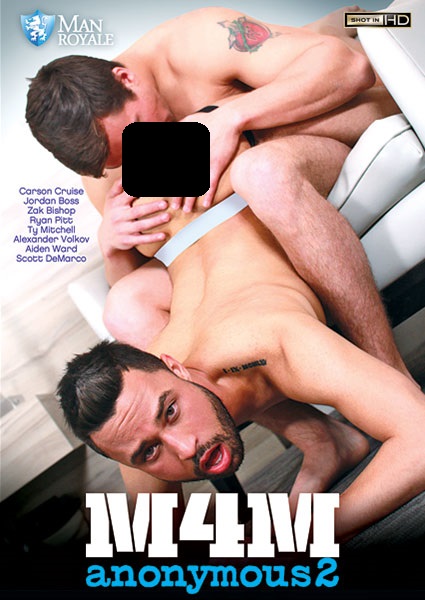 These men don't care who are they fucking with, even more, they get thrills when they don't know who they are having sex with, it's all about quick but pleasurable anonymous sex! Some go out and pick a person that they like on the street, some wait bare ass up with a blindfold, but they are all down to everything, anything to drain their balls, satisfy their horny cocks and thirsty assholes!