At Large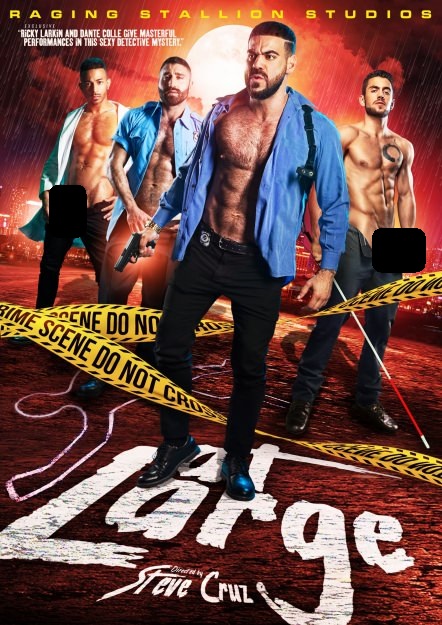 With a killer 'At Large', how far would you go to catch him? What risks would you take? Hunky detective Ricky Larkin's is on the case and he's willing to go all the way. Watch as he navigates through a mysterious web of sex, intrigue and jaw dropping twists that will leave you scratching your head and jerking your cock again and again. Join award-winning director Steve Cruz and ten hung studs as they take you on an intricate journey of crime, passion, and hardcore sex in this exclusive new blockbuster, six scene feature written and scored by the director himself. When Ricky takes a laptop as evidence from Alexander Kristov's murder scene to forensics expert, Zario Travezz, Zario gets more than a new case of diagnostics when Ricky makes his move. Zario hops on to ride Ricky's massive dick until both hard studs drop their loads all over Zario's cock. Ricky gets an anonymous call from Dante Colle, a blind, psychic witness, who has a vision of a man in black watching Marco Napoli visit Alexander Kristov's house for a hook-up. In the psychic retelling of Alexander's final sexual encounter Marco and Alexander flip-fuck and cover each other with cum. But who wanted Alexander dead and why? Ricky interrogates Dante Colle on his knowledge of the case before he sends him on his way. Dante and his boyfriend, Logan Stevens, share an intense shower and fuck session upon his return home. Logan receives a mysterious call and leaves Dante sleeping, but what is Logan up to? As the killer 'At Large' moves in to silence Dante, officers Sharok and Liam Knox arrive to his distress call. After questioning Dante, they leave him alone in his bedroom and head downstairs to watch for intruders. To kill the time, they start flip-fucking on the couch until the mystery deepens. Liam wakes in a daze from a bashed head to discover a disturbing new turn of events. Ricky gets a call from the killer who is holding Officer Sharok and the witness hostage. The captor is having Sharok suck his dick and Ricky only has until the killer busts his nut to find them. Unfortunately, for everyone involved, Sharok is a really great cocksucker. Will Ricky find them in time or will Sharok's talented mouth put everyone's lives at risk? When Ricky faces death, he finds Dillon Diaz and Logan Moore on the other side. Ricky sticks it to both hot studs in a threesome as he faces the battle of his life. Will Ricky choose to cum on the other side or will he take Dillon's advice and wake up to face life where the killer could face justice? Ricky's fucked the case, not to mention every guy along the way. Will Ricky overcome his arrogance and even death itself to crack the case and find the killer 'At Large'?
SCENE 1
SCENE 2
SCENE 3
The Longest Erection of My Life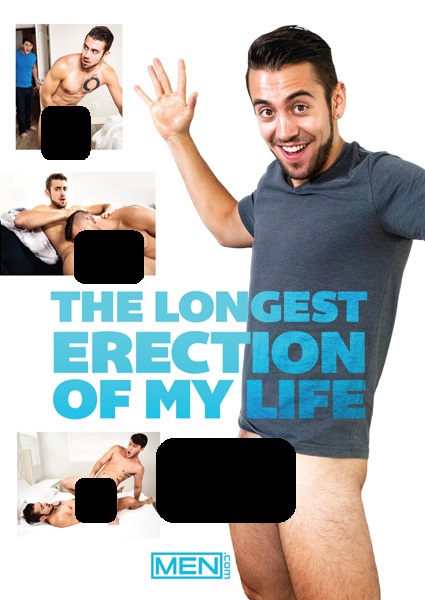 Tattooed hunk Dante Colle can?t seem to get a boner long enough to masturbate, but when he finally does get it up, he gets comfortable and starts masturbating the day away. Athletic cutie Shane Jackson just happened to be walking by his window and sneaks into the house to get an up-close-and-personal show. Dark-haired Dante is stunned to see him, but he's excited to bust another nut. Adorable, fit Dante Colle has been having a hard time getting it up so when he finally got that erection going, he was more than happy to jerk off multiple times before heading into work. The only problem is his boner just wouldn?t go away! Luckily, athletic, brown-haired Paul Canon returns home just in time to help him finally bust a nut with a proper blowjob, and some ass pounding that will hopefully fix his long-standing erect, cock! Tattooed, hunk Dante Colle still can?t get rid of his everlasting erection, and he has a birthday party to attend. What is he going to do? He decides to stuff it in his pants and heads out. Once there, the guys notice something is off with Dante, and begin probing him until his rock hard, hung cock is revealed. Atheltic Cazden Hunter, blond-haired Colton Grey, muscular Dominic Pacifico and chiseled Marcus Tresor all have one thing in mind now, and that?s to get the party really started with some hot group sex.
SCENE 1
SCENE 2
SCENE 3
WATCH ON GAY HOT MOVIES
Buddies Bustin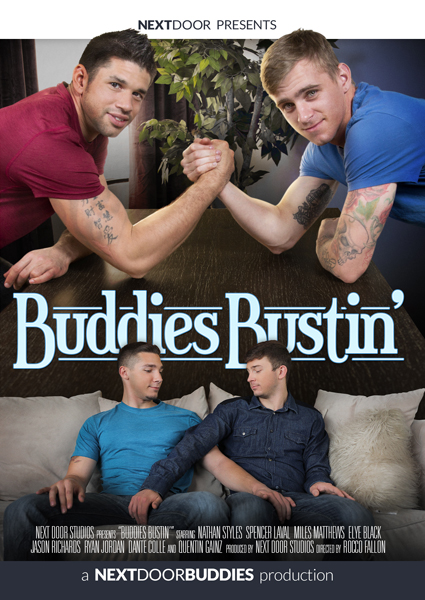 Nathan Styles suddenly has an insatiable urge to get a taste of what Spencer Laval is packing. As Spencer shifts the position of the screen they're watching, Nathan takes his chance, quickly wrapping his lips around Spencer's cock and downing it. Elye Black has asked buddy Miles Matthews if he can work a little bit of his massage magic. While Miles gives him his rub down, Elye gets a sensation in other areas of his body. He flips over and reveals his rock hard cock. As Jason Richards gives roomie Ryan Jordan another arm wrestling defeat, he whips out his big dick. Maybe next week Ryan will win, but for now, he had to pay the price for losing. When Dante Colle and Quentin Gainz come together, it's a feast for all the senses as both guys look good enough to eat. With all this eye candy, you can't blame these guys for wanting to have some fun together.
SCENE 1
SCENE 2
SCENE 3
SCENE 4
WATCH ON GAY HOT MOVIES