Skuff: Dog House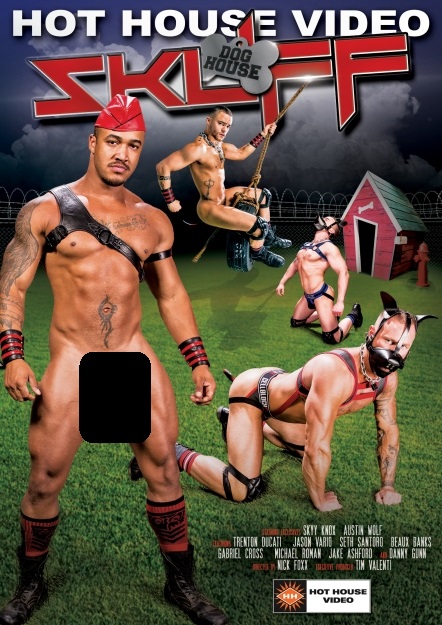 Welcome to the world of 'Skuff: Dog House', where puppies please their masters and the reward for good behavior is always a nice fat dick. Sit back and watch director Nick Foxx's latest as the pups of Hot House sniff bulging crotches, gnaw on big fat bones, and get their asses humped doggy style! When mailman Gabriel Cross takes too long to deliver the mail to the 'Skuff: Dog House', pups Michael Roman and Jake Ashford wrestle the him to the ground before sniffing and humping his butt. Trenton Ducati is training puppy Skyy Knox in the yard and when Skyy carries out every command perfectly, he's rewarded with Trenton's big curvy cock planted firmly in his tight ass. Beaux Banks is one stinky pup and Seth Santoro gives him a bath in the yard. Beaux nibbles on his daddy's bone to make it nice and hard before Seth screws the pooch and rewards his best friend with a snout full of jizz. Danny Gunn has been a good boy in his cage while his daddy, Austin Wolf, has been away. Austin lets Danny out to play and stretches his hole before fucking the cum right out of him. Jason Vario has his pup slave, Gabriel Cross, on a tight leash. Gabriel will do anything to please his daddy and after getting slammed doggy style, Gabriel takes a fresh load of cream on his panting, begging schnoz. Whatever your desire, these obedient pups will deliver. Who let the dogs out of the 'Skuff: Dog House'? Hot House, of course!
SCENE 1
SCENE 2
SCENE 3
SCENE 4
TKO Total Knockouts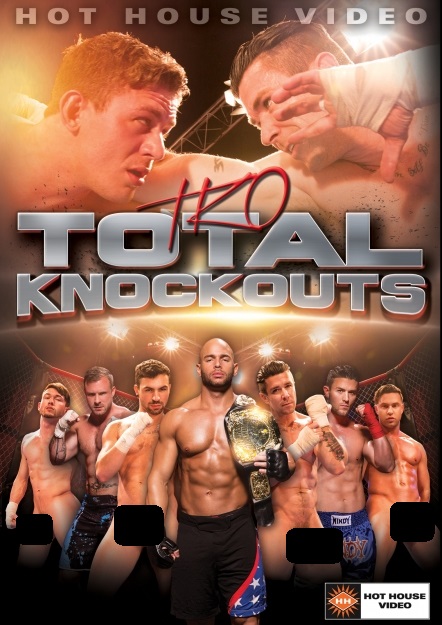 It's the ultimate fight, everything's on the line and these fine athletic studs will do anything they can to finish off their opponents. They're jacked up, they're hot as hell and they're horny as fuck...they're 'TKO Total Knockouts'. They will fuck you until you beg for mercy and throw in the towel. Nick Foxx directs eight relentless, horny studs who punch, grapple, wrestle, suck, and fuck their way to mixed martial arts victory. Ian Greene is the up and comer vying for the win against Ryan Rose, but Ryan's USMC training gives him the upper hand over Ian and his tight ass. Austin Wolf asserts his solid, massive body in dominance against Josh Conners, claiming his prize with a no-holds-barred fuck. Trenton Ducati imparts some pro tips upon Alexander Gustavo, winning the fight and giving Alexander a hands-free cum shot. Mikey Jr. takes a beating from Sean Zevran, bending over to take Sean's cock doggy style and receiving a load to the face. Watch the excitement, intensity, and heavy action as the studs of 'TKO Total Knockouts' fight for the sexual dominance.
SCENE 1
SCENE 2
SCENE 3
SCENE 4
Urban Spokes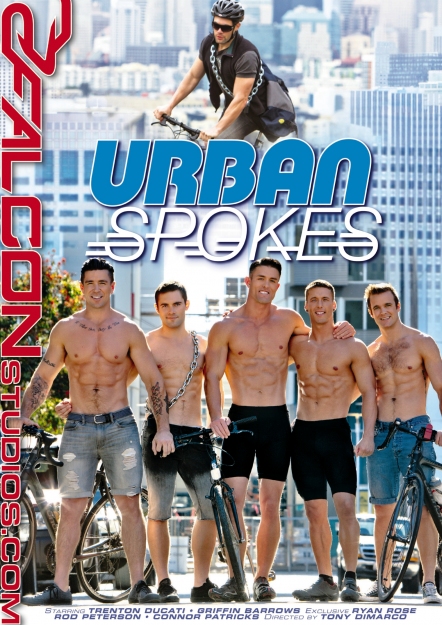 Welcome to 'Urban Spokes,' a secret sex club for San Francisco's hottest, horniest, most intense cyclists. Award-winning director Tony Dimarco captures the underground network of big-dicked, fast-moving bike studs who work hard and play hard. When Rod Peterson's chain breaks on a ride, Ryan Rose offers to help him fix it at the Spokes headquarters, but not before Ryan uses both of Rod's holes! Messenger Griffin Barrows is star struck meeting famous app developer Brent Corrigan, and Brent is so impressed by Griffin's riding abilities, he extends an invitation to join Spokes. Connor Patricks nearly collides with Spokes member JJ Knight, but instead of being angry at each other, they take the opportunity to collide JJ's massive cock into Connor's willing ass. On Friday night, Rod, Griffin, and Connor make their way down to the Spokes shop for their initiation ritual at the mercy of Spokes leaders Ryan Rose and Trenton Ducati. Who will be the newest initiate into this elite riding club? Go for a ride with the 'Urban Spokes' to find out!
SCENE 1
SCENE 2
SCENE 3
SCENE 4