Bounty Hunters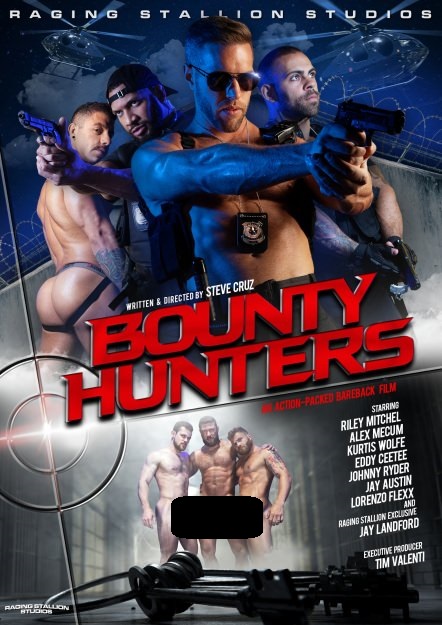 In 'Bounty Hunters', the new, full-on, bareback release from Raging Stallion, musclebound studs hunt dangerous fugitives and discover the only way to release the stress of the chase is through hot, raw sessions with their partners and the tatted-up criminals they're trying to bring down! When dangerous drug runner Riley Mitchell ends up in a jail cell with wide-eyed innocent Jay Austin, the result is a raw flip-fuck that leaves eager young Jay's beard and hole covered in cum. Hot on Riley's tail after his escape from jail, bounty hunters Jay Landford and Lorenzo Flexx decide that downtime means going down on your partner. Lorenzo gobbles Jay's god-like cock and Jay lays claim to Lorenzo's hole with champion ass-eating and a long, hard, condom-free fuck. On the run through open desert, Riley Alexander and his pal Johnny Ryder steal a getaway van from studly Kurtis Wolfe. A gag made of duct tape doesn't put an end to Kurtis's desperate pleas, so Johnny replaces it with his gargantuan cock and discovers his pretty boy captive's a hungry and eager cocksucker. After arriving at their secret hideout, Riley's furious that Kurtis is still whining. He's getting ready to give their captive a not-so-happy ending when Kurtis reminds them Johnny still hasn't had a chance to fuck his ass. During their hot three way, each man takes a hard cock deep and raw. Riley narrowly escapes a shootout with bounty hunters Lorenzo and Jay, arriving home just in time to hide from two more bounty hunters, Eddy Cetee and Alex Mecum. Convinced they've missed Riley by seconds, the Hollywood-handsome Eddy and Alex decide to wait for their target by barebacking each other with such unbridled passion Riley can't help but stroke himself as he watches from his hiding place. When the bounty hunters discover Riley, they're so horned up they decide to honor Riley's request to plow him bareback before turning him over to the authorities. As these 'Bounty Hunters' prove, there might be more than one way to get your man, but the best way is always hard and raw.
SCENE 1
SCENE 2
SCENE 3
SCENE 4
Str8 Chaser 11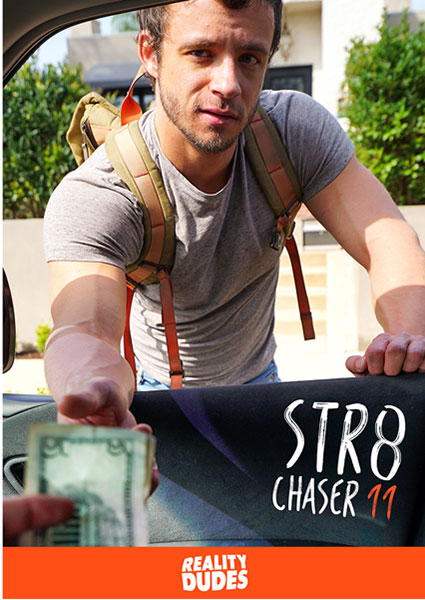 These guys have some strikingly good looks. They're lean and fit with eyes to die for. They also all have one thing in common - they appreciate opportunities to make money, and when offered one, won't hesitate. They may be new at this, but they sure do seem to enjoy a big cock in their mouths and perfect asses!
SCENE 1
SCENE 2
SCENE 3
SCENE 4
Beef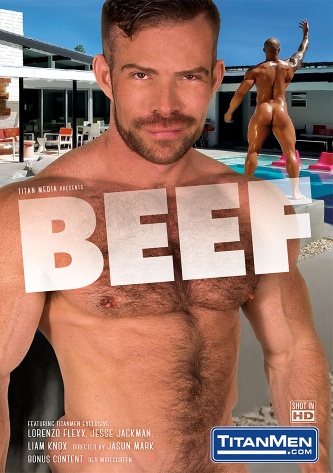 How do you like it: Tender and juicy? Round and rare? Aged and seasoned? Whatever you prefer, TitanMen exclusives Lorenzo Flexx, Jesse Jackman and Liam Knox have you covered as they serve up their prime slabs of Beef. On a break, construction workers Liam Knox and Daymin Voss flex for each other as they show off their tattoos?then show off their skills in a sweaty flip fuck. Soaked from the pool, Jason Vario sets his eyes on sunbathing Lorenzo Flexx?who gets the alpha even wetter with his warm holes. Voyeur Luke Adams gets spotted by naked Jesse Jackman, who motions him into the pool for some tube play?the two swapping sucks before Jesse dives deep into the jock?s hole. Liam Knox gets interrupted from his shower stroke by handyman Julian Knowles, who works on a few hard pipes during his house call.
SCENE 1
SCENE 2
SCENE 3
SCENE 4