Palm Springs Day Pass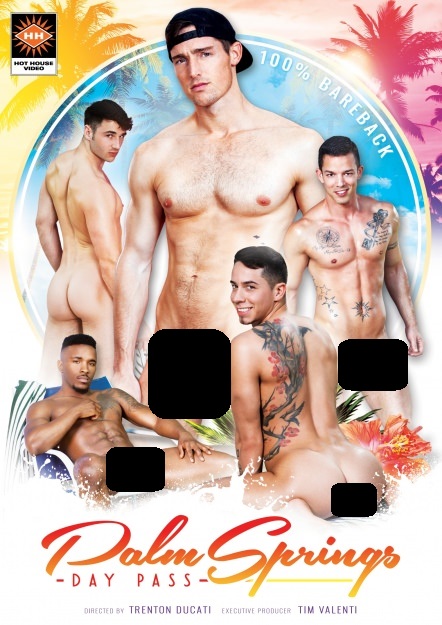 Get ready for your 'Palm Springs Day Pass', to the world-renowned CCBC Resort where director Trenton Ducati and his 10 horny muscle studs crank up the heat with raw, uninhibited bareback fucking. Join in on the fun in this sex-filled playground where the sun is shining, and the studs are always hot. When Devin Franco and Ian Frost can keep their hands off each other after checking in, the two exchange blowjobs before flip-fucking in an intense, raw fuck-fest until both studs are covered with jizz. Pierce Paris is cruising the back alleys of Palm Springs where he finds horny hunk Jack Kross doing the same. Pierce gives the stud what he wants when his slams his bare, massive monster deep into Jack's hole until he fucks the cum out of the panting stud and dumps his own load down Jack's greedy throat. After eyeing Vincent O'Reilly at the pool, Nic Sahara pulls out his cock to face fuck the handsome stranger before sliding into Vincent's waiting hole. Phoenix Fellington spots Zak Bishop through an open door of the resort with his ass in the air and accepts that as his invitation to get balls deep in the lucky stud. Steven Lee and Michael Boston swap blowjobs after cruising each other before Michael gets on all fours to take Steven's thick pole deep inside his hole. The next time you need to get off, book a 'Palm Springs Day Pass' where you'll find all the fun in the sun you need.
SCENE 1
Room 106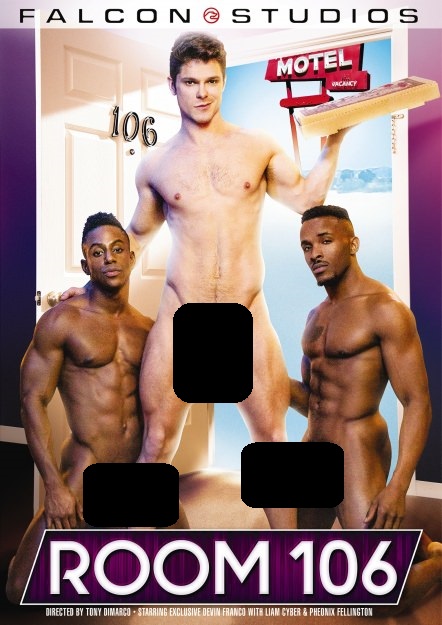 Have you ever wondered what happens in a hotel room before you check-in? If the walls of your hotel room could talk, what sordid stories would they tell? When 11 horny studs arrive in 'Room 106', a seemingly random hotel room off the beaten path, they find themselves breeding holes raw and sucking huge cock. Join award-winning director Tony Dimarco and his all-star cast of men who pass through this otherwise plain hotel room, but leave having had unique, mind-blowing, intensely sexual experiences. Strangers Jay Dymel and Pierce Paris are forced to share a room when their flights are canceled, which results in Jay taking Pierce's massive cock bareback. After a long day at work, Nic Sahara and Roman Todd get some relief by barebacking each other in the room all night. Cazden Hunter sets up an anonymous hookup in his lodging where Jack Hunter stops in to fuck his smooth ass raw. Mormon Elders Zander Lane and Justin Matthews explore the curiosities of their impure thoughts resulting in the ultimate sin. When Pheonix Fellington and Liam Cyber don't have enough money to tip pizza boy Devin Franco, the duo decide to slide their bare tips into his hole instead. Stop in and take a visit in 'Room 106'. If the walls could talk, imagine all the stories they would tell.
SCENE 1
SCENE 2
SCENE 3
SCENE 4
SCENE 5