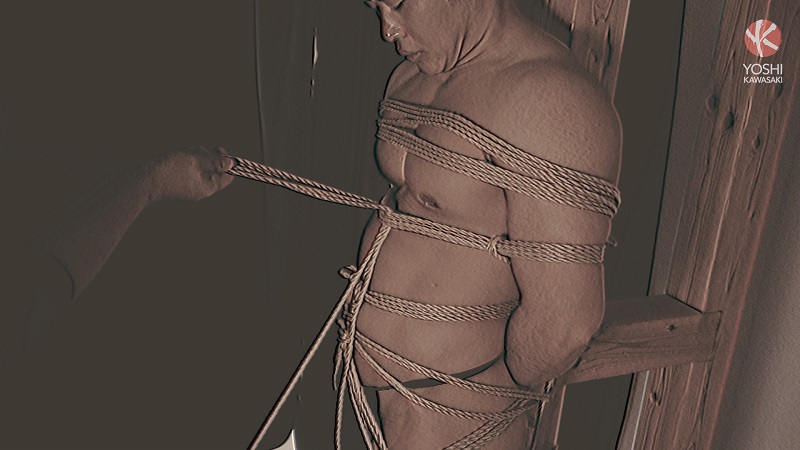 Young Japanese muscle hunk Kosuke is tied up by the notorious Shibari master Encho. He's slightly nervous but excited as this will be his first time getting bound. But there's no way for a true sadist like Encho to go easier on him. Encho starts binding his brawny upper body. The ropes cling tightly onto Kosuke's sturdy body. Next Kosuke's meaty, hairless legs are completely wrapped in ropes. Encho proceeds to connect him with a pillar so that he's completely immobile. Encho gags Kosuke's mouth and he becomes a human pillar. Once it's complete, Kosuke moans in pain and pleasure. Satisfied with his work, Encho unties him, freeing Kosuke from the shibari. But the ruddy rope marks left on his sweaty physique show it wasn't an easy task.
Cast:
kosuke
encho &nbsp
more YOSHI KAWASAKI updates
&nbsp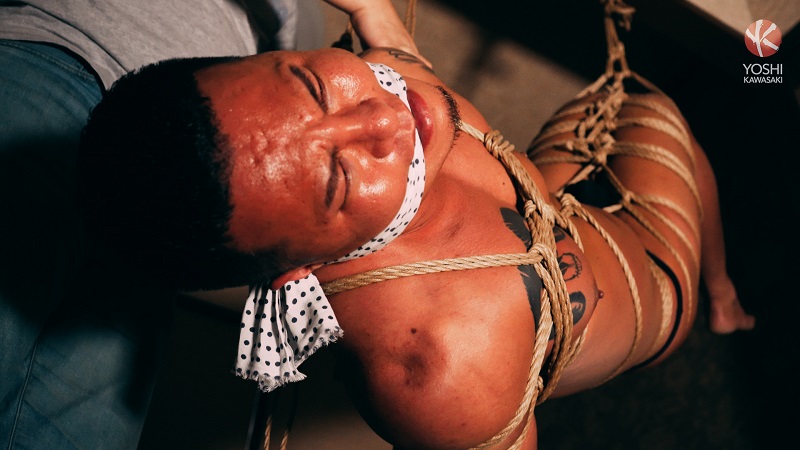 Shibari master Encho prepares the ropes for Ricky, his next prey. Ricky's a tattooed Japanese muscle stud clad in a simple black thong. First his arms are bound, tied behind his back. His muscular pecs are tightly bound and held down. Trying to maintain a blank expression, Ricky's inner anxiety shows through the bravado, he worries what's about to come. Encho's next step is to bind Ricky's legs. The subject's breathing grows faster. He suspends Ricky from a beam, whole body up in the air, held by the binding ropes. His position is upside down and diagonal, head hanging toward the floor. When Ricky groans, Encho gags him with a towel, rendering him silent. His muffled moans don't pierce the quiet, his agony at the hands of a true sadist will draw no attention. Pleased with his cruel work of art, Encho sits to watch Ricky's suffering. His sadism satisfied, he loosens the suspension ropes to free Ricky. Still reveling in his power, he teases his subject, tugging at his legs with the rope. Lying on the floor exhausted, Ricky breathes a hesitant sigh of relief.
Cast:
ricky ogasawara
shibaru-master-encho
&nbsp
more YOSHI KAWASAKI updates
&nbsp
Shibari master Encho binds up Yo-ichi in coils and knots of firm hemp rope. As he goes about his work, the scratching of the hemp strands and the creaking of the beam above echo through the room with an eerie majesty. Yo-ichi hangs in mid-air, suspended, moaning in helpless immobile pleasure. Intrigued by Yo-ichi's firm plump ass, Encho spanks him and controls his captive breathing.
Cast:
yo-ichi
encho &nbsp
more YOSHI KAWASAKI updates
&nbsp