Love and Lust in Montreal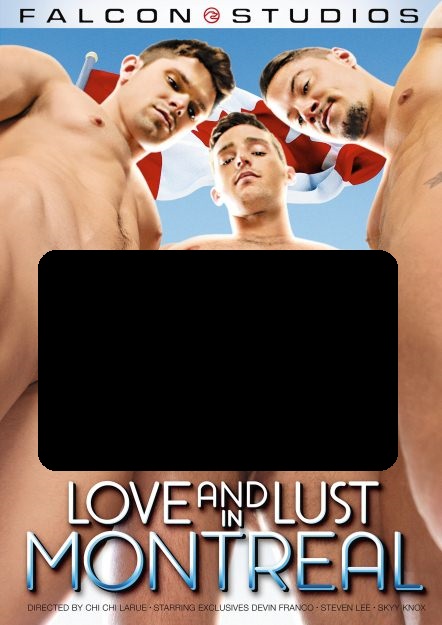 Montreal is a vibrant city filled to the brim with beautiful scenery, amazing food, and gorgeous, hunky guys everywhere you look. Join award-winning director Chi Chi LaRue on a trip to Canada with eight hard and hung studs ready to find 'Love and Lust in Montreal'. When Logan Styles wakes up in bed next to Skyy Knox with a hard-on, Skyy takes matters into his mouth and deepthroats Logan's massive uncut dick before offering up his tight ass for Logan to conquer, leaving Skyy's body and mouth covered with cum. Nikko Russo is spotting Pierre Fitch lifting weights but when Pierre spots what's between Nikko's legs, he opens wide to let Nikko fuck his face and tight ass. Steven Lee walks in on Jack Kross jerking off and immediately joins in on the fun. After swapping blowjobs Steven slides his fat dick into Jack's tight hole and pounds the stud until Jack is wearing two loads of thick cum. When Skyy heads down to the strip bar, he finds Ethan Chase working the stage. Soon, both Ethan and Skyy are showcasing their skills with a different kind of pole as they flip-fuck and drain each other's balls. Devin Franco is disappointed that he hasn't got any Canadian dick on his trip to Montreal, so Skyy and Steven offer up their cocks and soon the three are fucking in a chain with Devin getting pleasure from both ends. Let all of your inhibitions go and join these studs on their quest to find 'Love and Lust in Montreal'.
SCENE 1
SCENE 2
SCENE 3
Palm Springs Day Pass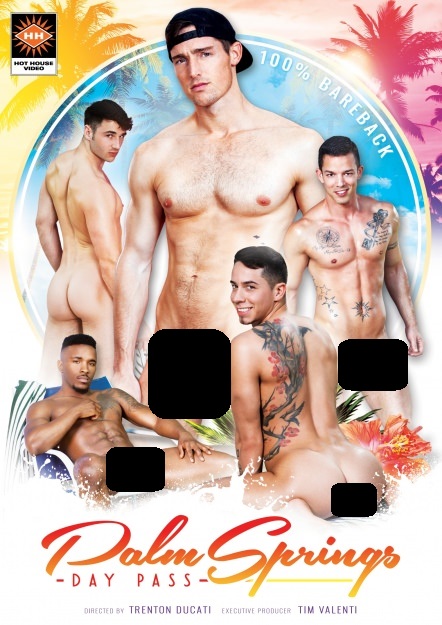 Get ready for your 'Palm Springs Day Pass', to the world-renowned CCBC Resort where director Trenton Ducati and his 10 horny muscle studs crank up the heat with raw, uninhibited bareback fucking. Join in on the fun in this sex-filled playground where the sun is shining, and the studs are always hot. When Devin Franco and Ian Frost can keep their hands off each other after checking in, the two exchange blowjobs before flip-fucking in an intense, raw fuck-fest until both studs are covered with jizz. Pierce Paris is cruising the back alleys of Palm Springs where he finds horny hunk Jack Kross doing the same. Pierce gives the stud what he wants when his slams his bare, massive monster deep into Jack's hole until he fucks the cum out of the panting stud and dumps his own load down Jack's greedy throat. After eyeing Vincent O'Reilly at the pool, Nic Sahara pulls out his cock to face fuck the handsome stranger before sliding into Vincent's waiting hole. Phoenix Fellington spots Zak Bishop through an open door of the resort with his ass in the air and accepts that as his invitation to get balls deep in the lucky stud. Steven Lee and Michael Boston swap blowjobs after cruising each other before Michael gets on all fours to take Steven's thick pole deep inside his hole. The next time you need to get off, book a 'Palm Springs Day Pass' where you'll find all the fun in the sun you need.
SCENE 1
The Pledge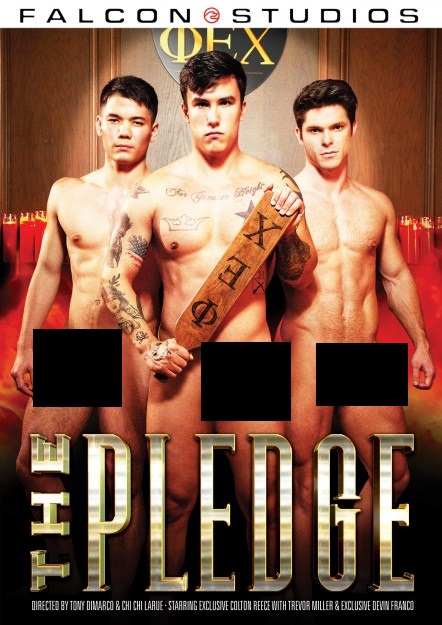 In the tradition of the iconic 'Pledge Master' franchise, which includes 'The Pledge Masters', 'New Pledgemaster' and 'Pledgemaster -- The Hazing'; Falcon Studios invites you to experience 'The Pledge'!The college freshmen in 'The Pledge' are willing to do anything to get a coveted spot in the hottest fraternity on campus. Their quest for validation and acceptance from their potential frat brothers becomes a lusty tale of intrigue, desire and deception that always leads to steamy bareback encounters. Join award-winning co-directors Chi Chi LaRue and Tony Dimarco as they deliver a blockbuster collegiate adventure featuring nine horny frat studs looking for all the raw college dick and ass they can grab. Brandon Wilde sits for his pledge interview with Trevor Miller and Tyson Rush. To prove that he has what it takes to join the brotherhood, Brandon bends over to let Tyson and Trevor tag team him bareback until both his mouth and ass are filled with their cum. Nic Sahara wants Zak Bishop to sponsor his pledge to the fraternity. Zak sees an opportunity and gets Nic out of his jeans. After sucking the college freshman's big uncut dick, Zak bends over to take every bare inch Nic can give him. Will a load in Zak's ass be enough for Nic to get his pledge? Steven Lee and Tristan Hunter get invited to visit the fraternity. When they arrive, Trevor Miller teaches them all about what being a frat brother means. The duo does everything Trevor commands including sucking cock and fucking raw as Trevor looks on with his dick in his hand. Will the show of loyalty and bonding gain them enough favor to get 'The Pledge'? Colton Reece blindfolds Devin Franco to drive him to an undisclosed location. Once there, Colton fucks the sight-deprived stud aggressively, stretching his hole to the limits until Devin is drenched with cum. It's a sudden turn of events at the final hazing ceremony when Devin Franco takes charge to put Trevor Miller in a submissive position at the fraternity initiation orgy. Blowjobs break out around the room and soon Colton Reece, Nic Sahara, Zak Bishop, and Brandon Wilde are all lined up to plug both of Trevor's holes for his betrayals. After all five hunks in the room have a go at Trevor's ass, they each blast their loads and cover the disgraced brother with jizz. Will Trevor be allowed to stay in the fraternity? Go balls deep in brotherhood with 'The Pledge' and see if you have what it takes to swear a lifetime of secrecy to the fraternity!
SCENE 1
SCENE 2
SCENE 3
SCENE 4
SCENE 5