Room For One More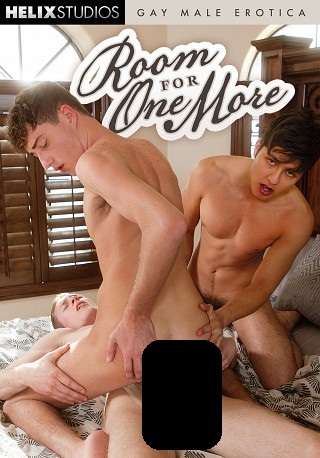 Three is definitely NOT a crowd in this cock heavy collection of our BIGGEST and brightest shining stars slamming their way into one another's hearts.... and holes! But we didn't stop at three, oh no!!! We upped the ante for this one BIG time folks! This blue ribbon bone fest boasts three, four and even SIX guys gettin' it on all at once working their way towards tidal waves of white hot, porny pleasure! Every scene is packed to the bursting point with miles of man meat and tight bodied twinks who love taking it! There's more than enough cock to go around and our beautiful boys get mighty creative with sexy spit roasts, trains and even a dick sucking assembly line! We've hand picked our hottest models for this masterpiece of masturbation worthy material. You'll find all your favorites like Sean Ford, Corbin Colby, Luke Wilder, Josh Brady and Blake Mitchell who tops AND bottoms in this scorcher! Every scene is a sexual symphony with multiple orgasmic instruments ALL in beautiful bareback-vision except one! You'll definitely want to "make room" in your collection for this gang-banging, bone throbbing, booty beat down!
SCENE 1
SCENE 2
SCENE 3
SCENE 4
SCENE 5
Hot Mess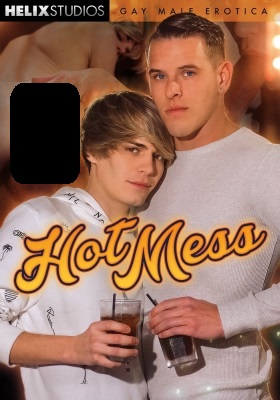 Certain nights just have that special magic in the air. You're young, hung, full of cum, and looking for some fun! You've got your best boys with you; but, as the night winds down, the only thing missing is some big, bad, brand spankin' new, sloppy one night stand, crazy rock hard COCK! These boys MAY have had a little TOO much fun, and ARE probably a bit messy; but, they're ALL definitely SUPER HOT! This naughty nod to the amazing "end of the night hook up" finds fan favorites like Sean Ford and Blake Mitchell rimming and ramming after a raging party! Pretty blond boy Kyle Ross cozies up to beefcake Sean Brady AND his big beer can thick dick for a bareback after party that'll leave you breathless and moaning for more, just like the ripely rammed Ross. This late night lust fest is crammed with crazy hot, cock lovers just looking for late night hook ups and they ALWAYS end up with the best of the best, boner thick, dick devils. Let's face it, anyone out past 2am is either up to no good, or looking for some tasty trouble! And, we're happy to say, these hotties ALL find what they're looking for here, and so will you!
SCENE 1
SCENE 2
SCENE 3
SCENE 4
Even More Twink 3 Ways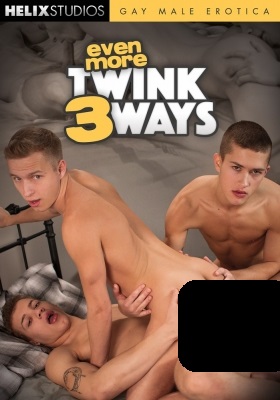 This well curated collection of cock is slam packed with our best butt banging, schlong throbbing threesomes! Filled with your favorite fucktastic Helix hotties, each hand picked piece of porn perfection has a different dreamy scenario with three times the porny pleasure. You'll find big dicked top Blake Mitchell going balls deep with two well endowed pretty boys after a spicy game of truth or dare gets good and gooey. Next, three sweaty basketball boys, including Tyler Hill (who has THE best butt on the planet) shoot and score thrusty three pointers while sinking their balls into the rim. Then, fantasy boyfriends Sean Ford and Noah White decide to spice up their relationship by "ordering in" on Grindr and hit the big jock jackpot with colossal cocked Corbin Colby! King Colby gets worshiped by the hog hungry couple and cocks both boy's butts like the bionic boner banger he's become famous for! Finally, beefcake Josh Brady teaches two of our newest naughty boys some manners as he manhandles latin lover Angel Rivera and Cole Claire's hot hind ends. Brady bends the boys over the couch while keeping Rivera's jock strap on an extra helping of hotness. Both boys then receive a thorough ass inspection. After the tasty tongue lashing-finger blasting carnal combo, Josh shares his big bareback schlong by sliding between both bubble butts until each bottom blows. Then, Brady treats Cole's caboose to a fresh, hot helping of cream pie! Rivera is ravenous and laps up every drop of the delicious dessert! Brace yourself for THE best dick dripping, train running, rim job giving, big dick fuck fest where three is never a crowd!
SCENE 1
SCENE 2
SCENE 3
SCENE 4