Heisse Kisten - Lube Job
The boss of the motorcycle repair shop likes mean machines. When a cute biker can?t pay, he has to put his mouth and his ass on the line. Spencer takes some motor oil and shoves his thick rod into his hole and fucks him until that butt is steaming. Apprentice Diesel does everything wrong, but he has an incredible ass. Jessy props the fucker up and makes him ride his rock-hard billy club. Troy gets worked over on the car lift by his tattooed co-worker. Handsome Stany pops a boner when the boss watches him take a shower. No sooner does Ivan think he?s alone in the shop than he whips out his cock. Hard-working guys need to let off steam.
Dominant Daddies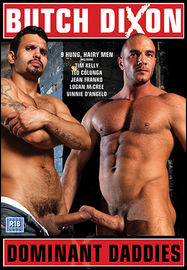 Daddy knows best, as the burly, hairy father figures in Dominant Daddies show us. Tim Kelly snuggles up to Ben Statham, and gently opens him up with his rock hard dick. Andrea De Lucas is taking it a little rougher from straight, body builder Ted Colunga and his massive member. Jean Franko is treating Yohann Banks like the fuck toy he is, and dumps a hefty load in his face. Young stud, Jock, is sorting out his daddy, Oliver, by sliding his rock hard cock up daddy's fuck-hole. Vinnie D'Angelo and the stunning Logan McCree are up next on the massage table where Vinnie's getting an intimate massage and Logan's getting his stunning tattooed buns spread and serviced. Whether they're giving or receiving, these Dominate Daddies take control and satisfy your needs!