Exposed Company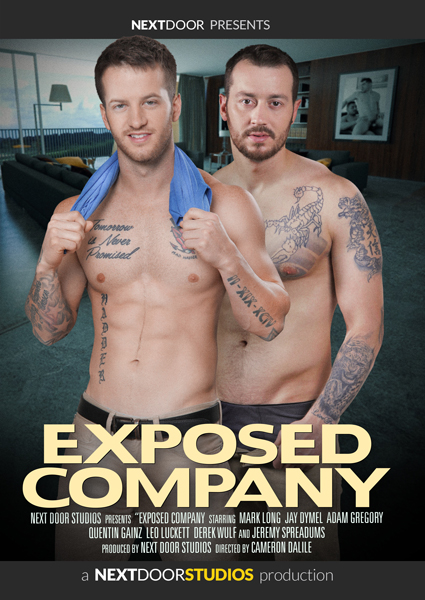 As repairman, Mark Long searches for a part to fix Jay Dymel's jacuzzi but he gets an eyeful of something else. Mark likes what he sees when Jay's towel slips off his ass. He reaches out and pulls him closer as they kiss. With his girlfriend in the next room, Mark Long comes out of the shower to find his secret side piece waiting naked on his bed. Adam Gregory has cock in hand and is ready for his weekly toss. Quentin Gainz is busy cooking for his girlfriend, but his buddy Leo Luckett makes him realize they still have time before she comes. Leo undresses Quentin and feasts on his body, sucking him off as he stands above him. Co-workers Derek Wulf and Jeremy Spreadums have to resort to some rather sneaky methods to get their freak on. They are almost caught, but thankfully Derek notices in time before having his cock deep inside.
SCENE 1
SCENE 2
SCENE 3
SCENE 4
Brothers Like It Raw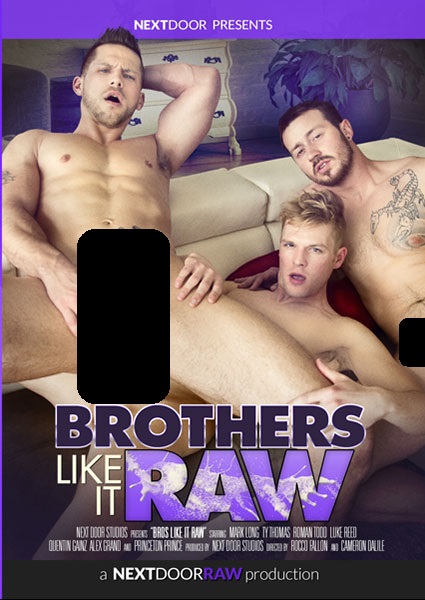 With his latest fuckbuddy set to come over later, Mark Long asks step-brother Roman Todd if he's interested in a little tag team action. Roman is always down but he asks him if his dude, Ty Thomas, will be into it. Mark tells Roman to just wait until they start and then to join in. So when he hears the sounds of pounding ass, Mark joins them in the action. Roman silently directs him to switch places. Finally home after a long day of running errands, Quentin Gainz and boyfriend Luke Reed barely make it to the sofa before their passion for one another explodes. Quentin throws Luke down onto the couch and they kiss long and hard as both of them clumsily work their way out of their clothing. After knicking the back while trying to give himself a haircut, Princeton Price asks roomie Alex Grand to do some damage control, but instead, he catches Alex checking him out in the mirror. Alex leads Princeton back to his room, deciding to let his hair down and follow his desires. They kiss hard and Princeton pushes Alex back onto the bed
SCENE 1
SCENE 2
SCENE 3
Brothers in Bed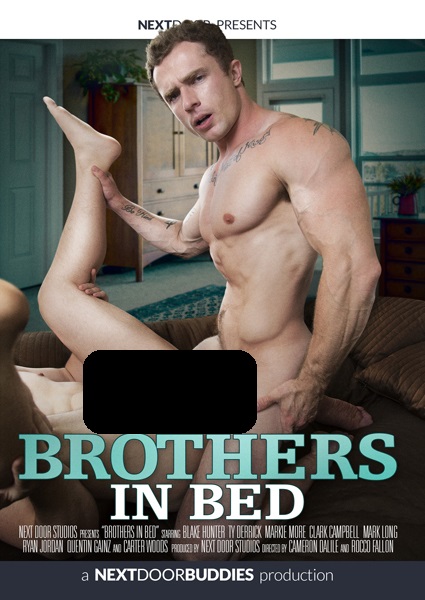 Ty Derrick asks to borrow step-brother Blake Hunter?s iron but he looks a little too long at his ass. Blake turns out asking him if there?s anything else he wants and Tyler replies yes. Blake shows him all the ins and outs of the ol' in and out, as he sucks Ty off and offers up his ass. When Markie More finds out roomie Clark Campbell has been invited to an orgy, he wonders if he?s ready. Clark turns and sees the intent in his eyes so Markie throws him onto the bed, going down on him instantly. As Ryan Jordan unzips Mark Long's pants revealing his giant cock, he?s in awe of just how big it looks in person. He tentatively tries to take all of it in his mouth but knows that Mark's hung like a horse and that it might be impossible. Quentin Gainz tells his buddy Carter Woods he'd like to go out but he just can't. Carter understands, and quickly knows how he can "help". He unzips his pants for him to take a deep dive face first, taking his dick deep into his mouth.
SCENE 1
SCENE 2
SCENE 3
SCENE 4