Making Rent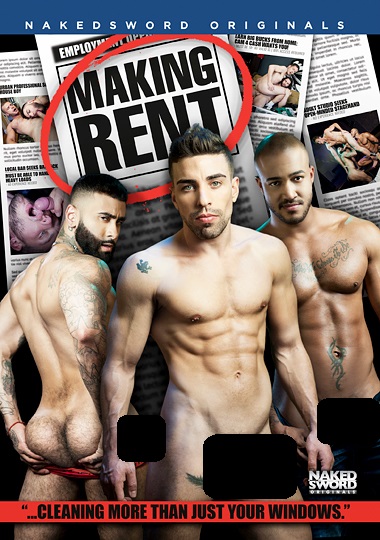 You live in one of the most expensive cities in the world, you're broke and rent is due. So what's a handsome, well built bro with a huge cock, hungry hole and no money supposed to do? You need to get out there and start Making Rent! At first glance these jobs seem pretty much like a no-brainer. Cleaning houses, working as a grip on set at the Nob Hill Theatre, or being a bar back at the Powerhouse seems like an honest way to make a living. But when the opportunity comes to make even more money in exchange for sucking dick and fucking ass, who is going to say no? Not these guys! They will do whatever it takes when it comes to Making Rent.
SCENE 1
SCENE 2
SCENE 3
SCENE 4
TSA Checkpoint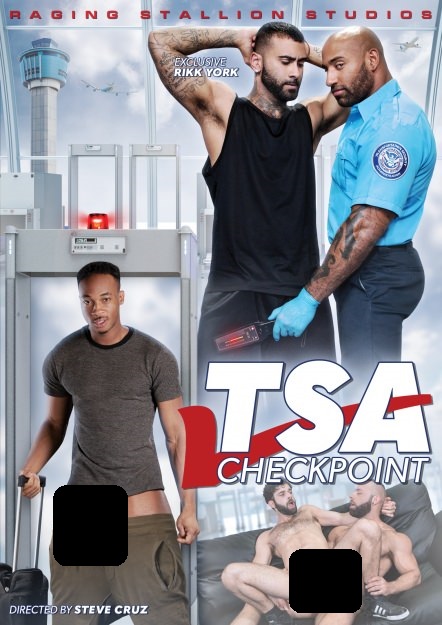 Traveling no longer has be a drag at the airport. Forget the lines and the delays, because when you hit the 'TSA Checkpoint' you might just get a hunky agent making you hard in a pat-down or a cock up your ass in a cavity search. Sit back and let passengers, employees, and Federal Agents make sure that your loaded weapon is safe for travel! When Rikk York sets off the alarms at a TSA checkpoint, Officer Daymin Voss finds some contraband shoved up Rikk's fuzzy ass. Daymin probes the traveler until he sets off both of their explosive devices. Tegan Zayne is heading home for spring break and decides to take a nap in the air lounge. When hot daddy pilot, Eddy Ceetee, enters the lounge Tegan is no longer tired and goes straight for Eddy's cockpit before getting his hairy asshole filled with dick. Lorenzo Flexx and Aleks Buldocek are airline baggage handlers. After going through some luggage and trying out some sex toys, Aleks bends his co-worker over the inspection table and drills his throbbing hole. Buck Richards is a sexy first-class lounge barista who serves up more than a cup of coffee to passenger Trent King when he gets his ass pounded with an extra side of heavy cream. When baggage handler Lorenzo Flexx stumbles upon passenger Teddy Torres jacking his rod by the men's room, he gets on his knees and handles Teddy's bag until the two of them exchange facials and swap some cum. TSA Officer Alex Mecum catches Teddy lapping up the last of Lorenzo's public facial and brings him into custody where Alex and fellow officer Derek Bolt have some fun with the hung stranger that ends with Derek covered in jizz. The next time you're at a 'TSA Checkpoint' make sure to misbehave so that you, too, can get manhandled by the horny hunks of the airport.
SCENE 1
SCENE 2
SCENE 3
SCENE 4
Trapped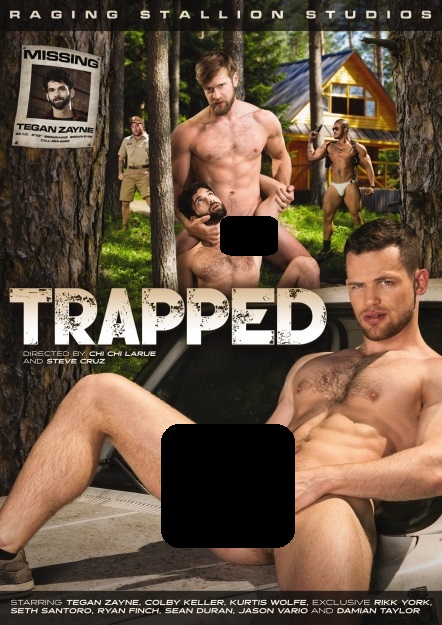 Is it love? Is it lust? Either way, Tegan Zayne is 'Trapped' in this exciting sexual journey. Will he discover the answers? Will he escape his captors and all the unanswered questions? Find out in the latest steamy Raging Stallion featured from the minds of award-winning directors Chi Chi LaRue and Steve Cruz. Kurtis Wolfe and Tegan Zayne are fucking on the couch. After taking each other's massive loads in their mouths, Kurtis proposes to Tegan. Tegan is unsure and decides to take a soul-searching trip to the woods to sort things out. After arriving at his destination, Tegan finds a local watering hole. All is well until he meets a handsome stranger and soon finds himself as a prisoner in a secluded cabin in the woods. Meanwhile, Seth Santoro and Ryan finch are back at the bar. Seth sucks Ryan's dick before he gets his own hairy hole serviced by Ryan's expert tongue on the pool table. Officer Sean Duran and Detective Jason Vario are working Tegan's missing persons case. When they disagree on how to proceed, the only way to remedy the situation is for Jason to prove that he has the bigger dick and then fuck the cum right out of Officer Sean. After being held by Colby Keller for almost two weeks, Tegan is ready for some action. He seduces his captor with a nice long blowjob before Colby rams his big cock deep inside his prisoner. Is Tegan falling for Colby or is it a classic case of Stockholm Syndrome? Damien Taylor, Rikk York, and Seth Santoro are camping in the woods. After the guys take turns stretching each other's holes and gobbling up all the cum they can get, Seth and Rikk get lost on a hike. One of the strangers in the woods who helps them on their way looks familiar. Can Seth figure it out before it's too late? When Kurtis gets a tip from Detective Jason on where Tegan is staying, he shows up at the cabin. Tegan is unable to choose between Kurtis and Colby so Kurtis suggests that they all love each other. After Colby fucks both hung studs, the cum flies and the aftermath begins. Will the three new lovers make their new arrangement work or is Tegan 'Trapped' again in an entirely new complicated situation. See it all unfold in 'Trapped' and let your inhibitions loose.
SCENE 1
SCENE 2
SCENE 3
SCENE 4
SCENE 5