A Man & His Boy
There is something to be said about the carnal interaction between older & younger men. Experience will dominate here as an older guy will always put you through the paces, teaching you sensuality, lust & sexuality. Whether it?s an over the top, ?slam-me-against-the-wall? type of romp OR a loving, tender escapade in bed, one cannot deny that beautiful chemistry between a Man and his Boy!
Love Always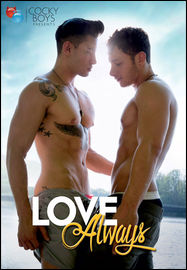 Love Always. Having someone you could rely on through tough times, through happy times and every time in between is not to be taken lightly. It's even harder for a performer to find that special person to share those moments with. That is why we're celebrating our porn star couples. They've been able to merge their on-camera life with their private ones and the results are spectacularly beautiful.
SCENE 1
SCENE 2
SCENE 3
SCENE 4
SCENE 5
The Life of Riley
Liam Riley is the fun-loving carefree guy everyone enjoys being friends with. Ever the upbeat cheerleader, Liam always has a smile on his face and a twinkle for every sexy man that crosses his path. He maybe sweet, but he sure has dirty thoughts when it comes to other dudes. The Life of Riley is filled with fun, sexy encounters that anyone would enjoy.
SCENE 1
SCENE 2
SCENE 3
SCENE 4
SCENE 5