The Escape Room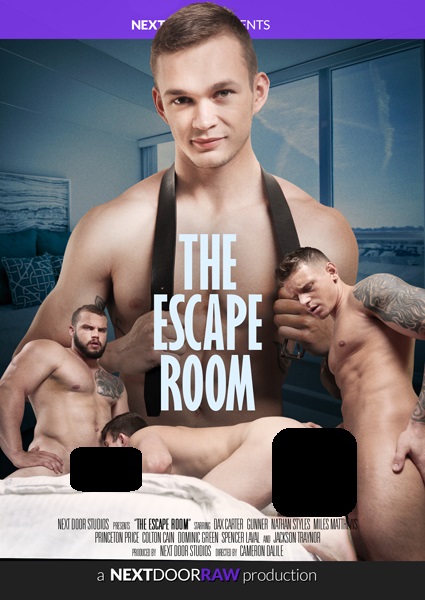 Nathan Styles and Gunner have to follow the clues to get out of the room, but instead, they decide they'd rather stay locked in together. When Dax Carter checks on them, he finds Gunner laying on the bed naked with his dick in Nathan's mouth. Princeton can't believe its Miles Matthews' first time. Boy sucks a dick like a natural, but what Princeton really wants to know is how he works it, so he mounts him and takes a ride on young Miles' magic wand. With the sorrow of a recent break-up, Colton Cain seeks solace from his buddy Dominic Green. Dominic has a pretty good idea of what they can do together. As Jackson Traynor sits in a familiar hotel room, he reminisces about an event he engaged in with Spencer Laval, on the bed behind him. He remembers every touch, every kiss, and every thrust of Spencer?s lustful cock.
SCENE 1
SCENE 2
SCENE 3
SCENE 4
Ambushed 9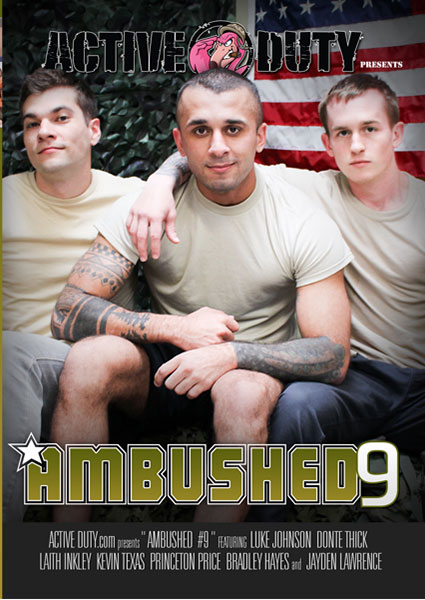 On his first time doing anything with another man, Luke Johnson lies down on the bed and Donte Thick pulls out his big hard cock right in front of his face. Luke loves it as he moans with pleasure getting finger banged in his tight eager hole. As each one becomes harder Princeton Price decides it?s time to begin the deep throating. He strokes his hard dick while sucking Kevin?s throbbing cock. Kevin Texas has his mouth full with Laith Inkley?s dick deep down his throat. Once the introduction is finished Bradley Hayes begins to take his clothes off revealing his thick cock. You can see his tight little hole as he strokes his big thick dick with his legs spread. Jayden Lawrence fit muscular thighs are firm as he stands tall stroking his throbbing dick for us. He masturbates all over the bedroom from the bed to standing positions.
SCENE 1
SCENE 2
SCENE 3
SCENE 4
Guerilla Troops 5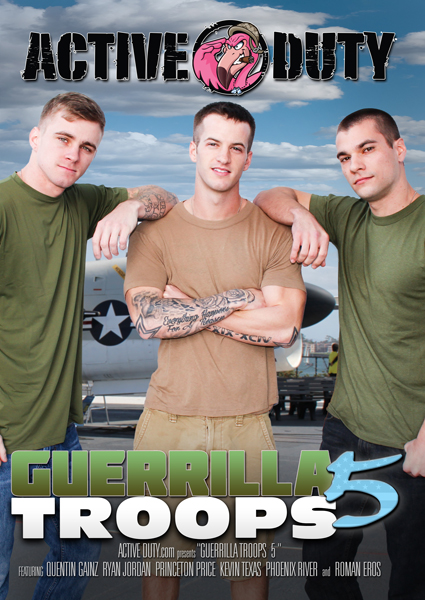 Quentin Gainz, Ryan Jordan and Princeton Price introduce themselves. Right after, they are all making out and letting their hands run wild. Everyone has a hard throbbing cock stuffed in their mouth. You can hear the sucking, licking and choking from all the sexy madness. Quentin Gainz keeps staring at Kevin Texas's thick dick and asks him if he would like him to suck it. This is Kevin's first experience having a man wrap his mouth around his cock. Quentin loves that Kevin's dick is pierced and he uses his tongue to play with it. Dirk begins his small talk with Phoenix River making him more comfortable before he has him take his clothes off. He is a tall man with a great fit body. Phoenix moves to the bed where he spreads his legs wide and far so we can get a great look at those full balls just waiting to be released. Roman Eros is a very nice guy with a great laugh. He wastes no time in dropping his clothes and stroking his hard cock. Roman loves to play with his hard nipples while stroking his cock and Dirk notices that he also likes to play with his ass.
SCENE 1
SCENE 2
SCENE 3
SCENE 4